Advertising Opportunities & Content Submission
The 5G Exchange, the first industry portal for all things 5G, launched May 2019. This exclusive community is designed to provide industry decisions makers, such as global communications service providers, OEMs and enterprise IT executives, with critical insight on emerging trends and technologies enabled by 5G.
The 5G Exchange works within Informa Tech to help companies deliver their 5G goals, solutions and products.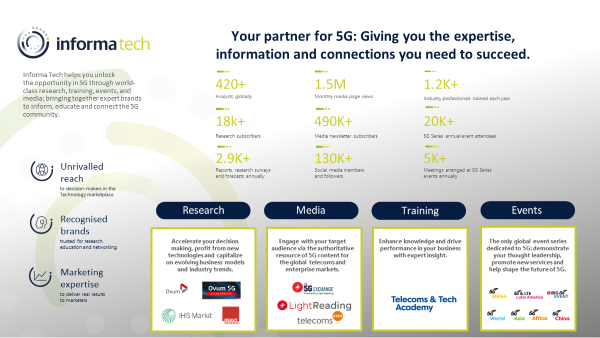 Advertising Opportunities
The 5G Exchange allows you to reach an engaged, targeted audience. Whether your priorities are generating valuable new leads, maximizing your brand's profile or positioning yourself as an industry thought leader, The 5G Exchange places your brand at the center of the booming 5G industry.
Sponsorship opportunities include banner advertising, lead-gen and content creation.
For more details on our advertising and marketing solutions, contact our sales team.
Content Submissions
The 5G Exchange is fueled by industry-submitted content. Don't miss out on your chance to be a part of this exciting new community. Content submissions are free!